Article
Un cœur nomade, an exhibition inspired by the life of Dany Laferrière, on display at UN headquarters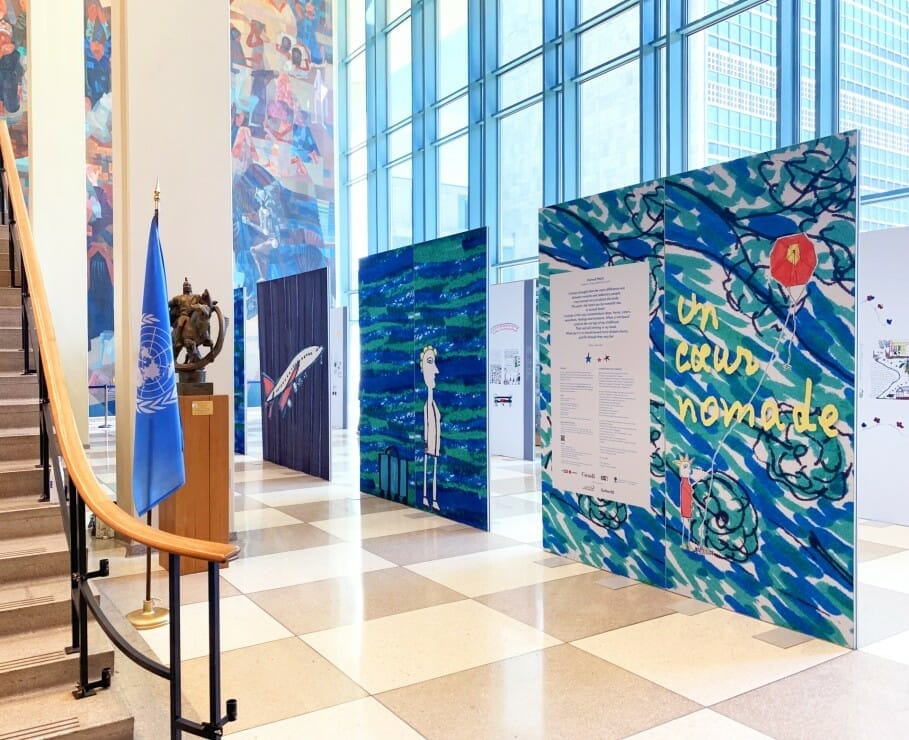 Press release | For immediate release 
Montreal, June 7, 2022 – After being presented in Frankfurt, Tunis and Sharjah (UAE) in the fall of 2021, Un cœur nomade, an exhibition produced by the Quartier des Spectacles Partnership, was unveiled in New York City yesterday at a vernissage attended by the exhibition's subject, Dany Laferrière, a member of the Académie française. The exhibition will be on display until June 16, 2022, in the delegates' entrance to UN Headquarters. Un cœur nomade is an invitation to all UN staff and visitors to the prestigious complex to learn more about the life and work of the internationally acclaimed Canadian writer, celebrated throughout la francophonie.
In words and images, Un cœur nomade looks back on Laferrière's life and work, from his childhood in Haiti to his election to the Académie française in Paris. The exhibition was first presented on the Promenade des Artistes in Montreal's Quartier des Spectacles in August 2020. The project, led by curator and creative director Félix Dagenais, was produced by the Partnership to mark the first 35 years of the writer's literary career. The exhibition is largely based on Laferrière's three graphic novels and includes images from it : L'exil vaut le voyage, Vers d'autres rives and Autoportrait de Paris avec Chat, all published by Éditions du Boréal.
The exhibition has been touring thanks to a collaboration with Quartier des Spectacles International, a new organization affiliated with the Partnership whose mission is to animate public spaces with inspiring installations featuring sound, light and participatory elements. An excellent showcase for Montreal-based talent, these installations help raise Montreal's international profile. New Yorkers have previously had the opportunity to discover several iconic works produced by the Partnership, including Loop, Prismatica and Impulse, presented in the Garment District since 2019.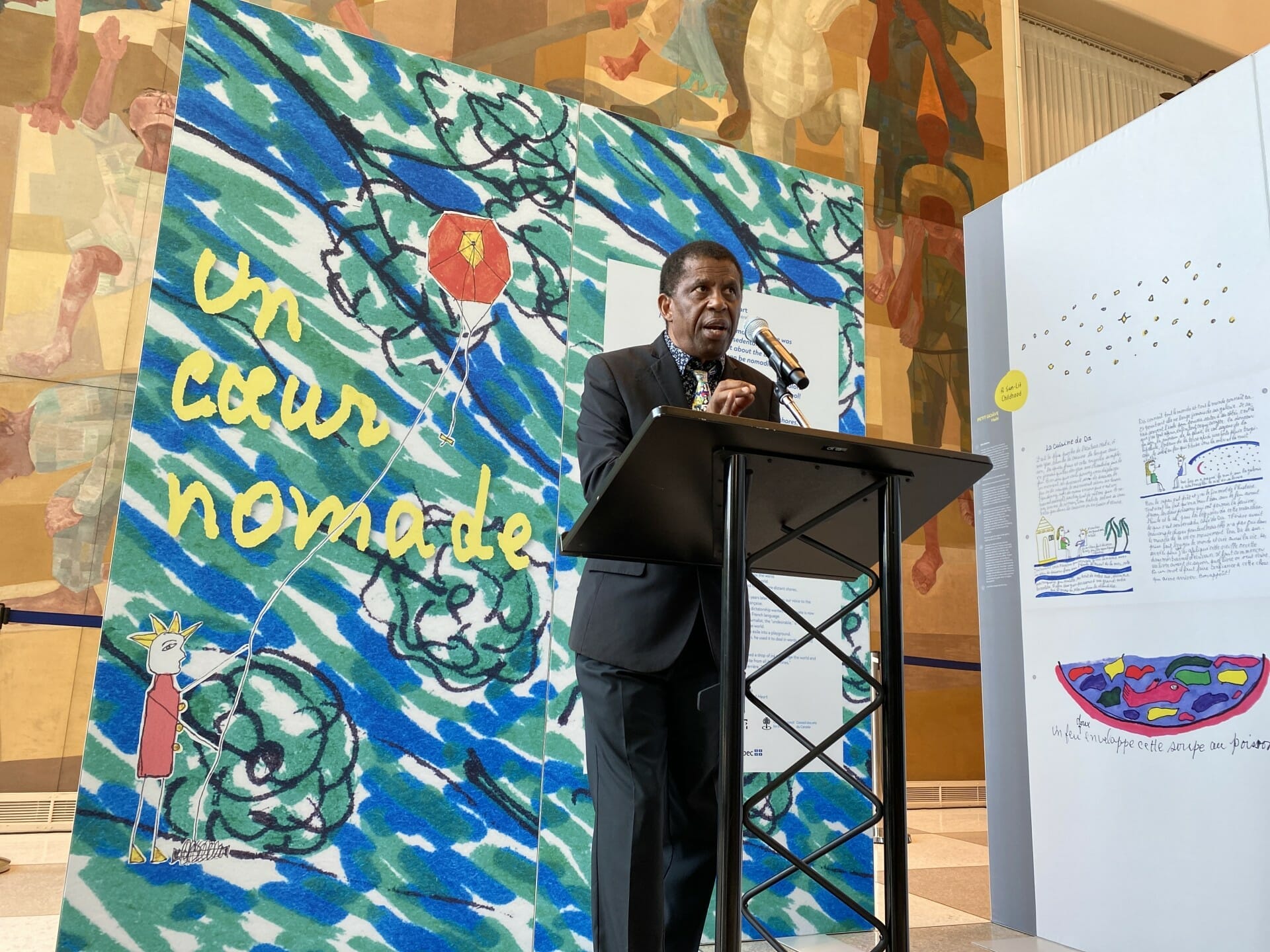 The presentation of the work at UN Headquarters was organizaed in collaboration with the Québec Government Office in New York, the Organisation internationale de la francophonie and the Permanent Mission of Canada to the United Nations in New York City, with the financial support of Global Affairs Canada and the Canada Council for the Arts.
Quotes
"At every crossroads in our lives, we have to try to do something we have never done before. For me, that was writing longhand and drawing like a child." Dany Laferrière
"It is with great pride that we celebrate the opening, in the heart of UN Headquarters in New York, of the wonderful exhibition Un cœur nomade. It is a tribute to one of our greatest writers, Dany Laferrière. Culture is the embodiment of our values. It brings us together as human beings and is a superb tool for strengthening our relationships everywhere on the planet. It is no exaggeration to say that cultural diplomacy is essential to the development of our international relations, and that it projects a positive image of our entire society. Thank you, Dany, for your body of work and what it represents here and everywhere," said Martine Hébert, Québec Delegate General in New York. 
"This exhibition on the life of Dany Laferrière, a rich and unique human journey, takes on its full meaning in the setting of the United Nations. We are very proud to be able to share the exhibition with people from around the world, and to celebrate our culture and the talent of one of our greatest authors. This project is part of a long and fruitful relationship with New York City. For their support, I want to thank the Québec Government Office in New York, Global Affairs Canada, and Bob Rae, the Canadian Ambassador to the United Nations. Special thanks to Dany Laferrière for his great generosity and unflagging commitment to this project," said Monique Simard, chair of the board of directors, Quartier des Spectacles Partnership and Quartier des Spectacles International.
Credits
Curator and creative director: Félix Dagenais
Graphic design and scenography: Design par Judith Portier Inc.
Music composition and sound design: Javier Asencio
Production: Quartier des Spectacles Partnership
The salute to the first 35 years of Dany Laferrière's literary career is an original idea by Anne Plamondon.
About the Quartier des Spectacles and the Partnership
The Quartier des Spectacles is Montréal's cultural heart, boasting North America's most concentrated and diverse group of cultural venues as well as numerous festivals and events. The Quartier also hosts innovative urban installations involving cutting-edge lighting design and immersive environments. The Quartier des Spectacles has become an international showcase for digital public art.
The Quartier des Spectacles Partnership, founded in 2003, is a non-profit organization with more than 85 members active in the district. It is responsible for animating the Quartier des Spectacles by programming cultural activities, managing and animating public spaces, providing distinctive illumination and promoting the Quartier as a must-visit cultural destination. The Partnership benefits from the support of the Ville de Montréal.
More information: quartierdesspectacles.com
About Quartier des Spectacles International
Quartier des Spectacles International (QDSinternational) is a non-profit organization that produces and distributes participatory installations for public spaces in collaboration with creative partners, co-producers and exhibitors around the world. An affiliate of the Quartier des Spectacles Partnership, QDSinternational draws on extensive expertise built over many years, thanks to the numerous works commissioned to animate North America's largest cultural district. These works have sparked the imagination of thousands of visitors. The organization's expertise is reflected in cutting-edge processes for the design and production of robust, safe installations suitable for all ages and all seasons. QDSinternational relies on a network of first-rate collaborators and technical service providers active in the international presentation of public artworks and installations. These partners allow QDSinternational to produce large-scale projects and offer turnkey options adapted to the needs and realities of each site.
More information: qdsinternational.com
– 30 –
PHOTOS
Download link.
Please include full photographer credit and the following caption: Un cœur nomade, delegates' entrance to UN Headquarters, New York City.
MEDIA CONTACT
Quartier des spectacles Partnership
Mélanie Mingotaud
melanie@mingo2.ca
514 582-5272
SOURCE
Quartier des spectacles Partnership
Chloé Goldstein
chloe.goldstein@quartierdesspectacles.com
514 812-2193